HOW PPC WORKS?

AdWords operates on Pay Per Click advertising model which enables advertisers to bid on keywords and pay for each click or impression when someone click on or view the ads. When a search is initiated in the Google query box, Google plunge in the pool of AdWords advertisers and pickup the best winner to appear in the most valued space in the SERP. But it is not so easy. There are many factors like AD Quality, AD Relevancy, Landing Page Experience and others ad formats.

It does not matter whether a website is new to Google or not. All that matters is the Quality Score and AD Rank. Quality Score is a rating of quality and relevancy that Google provided for each keyword. AD Rank is a value used to determine the ad's positions i.e. whether the ad is qualified to appear in Google SERP or not.

Ad rank is calculated by multiplying Bid with Quality Score.

AD Rank = Bid x Quality Score





Ad rank is calculated each time when a query is generated with related search term. Ad Rank determines whether the ad is eligible to competes and appear in the auction or not. Bid is the amount of money that advertiser or company want to pay for every click / impression. Here one thing is worth mentioning that higher bid amount never guarantee higher AD Rank or better AD position. Let's explore a scenario: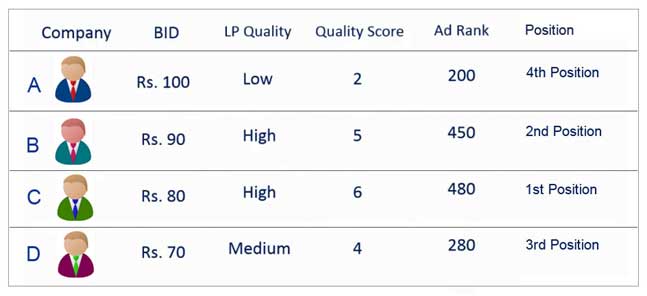 Here Mr. A has bid highest Rs. 100 and Mr. D has bid lowest 70. So primarily it may appear that as Mr. A has bid highest, his AD will rank top or 1st position of the SERP. But while looking at the other factors, we see that the Quality Score of Mr A is 2 among 10 while Mr C has highest Quality Score i.e. 6 out of 10. And the AD Rank respectively is:

Mr A (100 x 2) = 200
Mr B (90 x 5) = 450
Mr C (80 x 6) = 480
Mr D (70 x 4) = 280

So, it is clear that AD of Mr C will appear top of search result page because his AD Rank is highest (480) though he is bidding only Rs 80 per click which is much lesser than Mr A - the top bidder. Above all, the most amazing fact is that the AD of Mr A may not appear in the 1st page of Google Search or in anay page though he is bidding highest because his AD rank is lowest than of others.

Here one question may appear that "What would be the bidding amount for Mr C"?

Well, AdWords always charge a little higher amount than the next bidder i.e. a little more that need to beat your competitor to appear on result page. Here as per above scenario Mr C is winning the best AD position with a maximum bid amount of Rs. 80. So he may have to pay Rs. 71 or 71.50 which are a little higher than his next bidder Mr. D who has bidding amount of Rs 70.

NOTE: Rs 80 is the maximum bid amount for Mr C that he is willing to pay to AdWords when anybody clicks on his Ads. But actually he has to pay Rs 71/71.50 to AdWords as his next competitor (Mr D) is bidding Rs 70/- because Google charge on CPC bid only that much of money that required beating his/her next competitor.

What are the most important lessons you have learned here?

Quality Score is the main game changer in CPC bid strategy. Advertisers must focus to increase the Quality Score of the keywords. There is a misconception that Google provides Quality Score on Campaign or Ad Group etc. But this is all myth. Google provide Quality Score only on Keywords - so it is called Keyword Quality Score.